Commercial Property Maintenance, Transforming Properties and Achieving Business Success: A Royal Treatment Case Study
A Real Estate Holding company purchases two buildings with a total of about 600 units that needed significant revitalization.
Buildings Year of Construction: 1978
Type of Units: Mixture; 3br, 2br, 1br units 625-1026 sq feet
The real estate holding company needs to modernize and update their properties and improve their tenants' quality of life. Both of their two buildings' require exteriors remodeled, redesigned, refaced, and painted. By working closely with the company, Royal Treatment aimed to improve tenant retention, occupancy rates, and rent revenue.
Why building owners should invest in commercial property maintenance
Our client came to us because they recognized their buildings needed a major facelift to attract new tenants and to improve the overall living experience for existing tenants.
After selecting a different, lower-priced vendor, they had a poor experience including multiple, unexpected and costly change orders and poor craftsmanship. Ultimately our client decided to partner with Royal Treatment and apply our holistic approach to their buildings, which encompassed exterior refacing, building repairs, and exterior painting.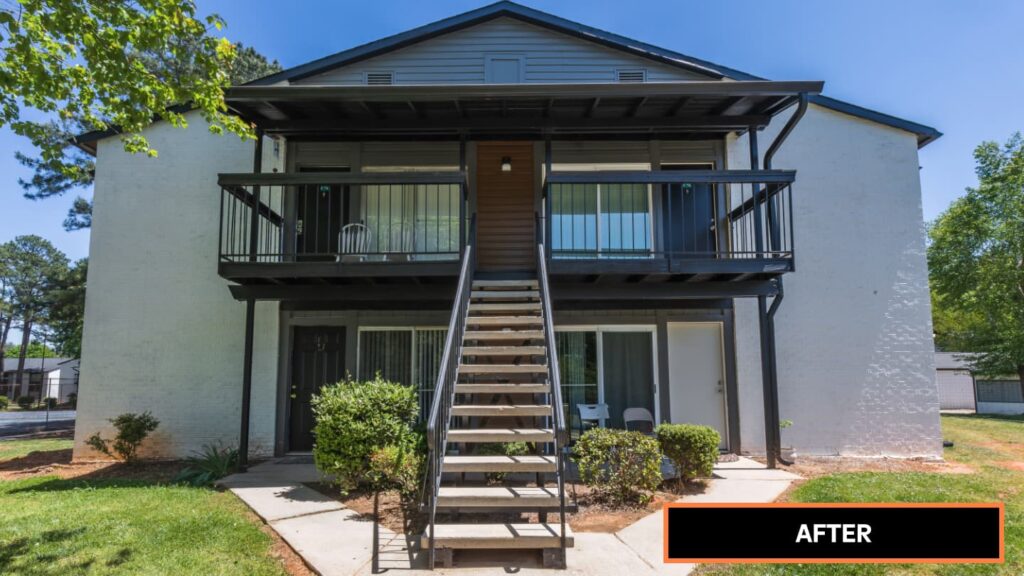 What change orders?
We helped our client trim unnecessary expenditures and achieve the same, high-quality results. We went above and beyond and assisted our client to leverage financing with their bank and investors to get the job done.
While our competition may start by pricing themselves low, their cost ends up meeting or exceeding our accurate estimate. This is why we have a policy against unexpected change orders!
Our approach to understanding what our clients need to do for their building's facade is thought-through and intelligent. Over time we become our client's trusted provider as we share in their responsibility of protecting their capital investment.
We seamlessly integrated into this project by collaborating directly with the company's designer in order to eliminate the need for our client's direct involvement so they could focus on other essential aspects of their company. By working with our client's designer, we ensured that the final result aligned with the envisioned design while prioritizing the clients needs over their own profit.
"Royal Treatment is all about service, work ethic, and the work they do. They care about your property – from service to design – more than anything else, including profit."
Building repair and maintenance boosts tenant satisfaction and retention
After Royal Treatment completed the scoped project for the buildings, the location was upgraded from Class C to Class B, and more importantly, tenants started renewing at higher rates and tenant turnover decreased.
By working directly with the designer throughout the project, we actively sought opportunities to save money for the client and not skimp on the final result. Using our expertise and experience, we identified areas to reduce expense while still achieving the desired outcomes. Our commitment to cost-effectiveness strengthened the trust between the client and our team.
"If your property looked like my property beforehand, you should ONLY do this work with Royal Treatment. We've done this kind of work with other vendors before, and it was a big headache. These guys are great."
Our impact on our client's buildings was significant. The revitalized properties experienced changes to the facade attracting new and desirable tenants, increased retention of existing tenants and increased revenue from a decrease in turnover and increased monthly rent increasing the clients financial stability.
We build trust.
Are you ready to elevate your real estate properties to new heights? Take advantage of Royal Treatments free no obligation quoting process and take advantage of their expertise, exceptional service, and commitment to delivering remarkable results. Contact us today at 732-994-7911 or [email protected] to discuss your project and unlock the full potential of your properties.